When I first started real estate photography, I noticed that there were too many photographers in the niche who did not have their drone license. After getting my license, I realized the huge potential drone photography can have on the market.
Some reasons why any agent should be using drone for their listing is set themselves apart from other agents, get helicopter-view angles of the home and surrounding areas, highlight areas of the home in eye-catching perspectives, and set the home apart from the other listings in the area.
My drone license is primarily used for multimedia work—photography and videography—here in Utah.
My recent focus has been in real estate photography and videography and come to find out, it's absolutely imperative that you or I have a drone license. There are no exceptions to this rule.
Why Use Drone Photography For Your Listing and Does It Matter?
Any photos or videos taken from a drone with moving motors off the ground is labelled aerial or drone content. It doesn't matter if it's fifteen feet off the ground or one foot off the ground—if the drone is motorized and off the ground, you're operating an unmanned aircraft vehicle called a drone.
If this is the case and you're doing it for money, then you need a license. If you do not have a license and you're collecting money for your work or doing it for your business, you are breaking federal law which is a criminal act.
I've called the FAA and asked that if I don't charge money for my drone content to my clients, is that still considered commercial use. They said yes and explained that if my clients are using them for their monetized product, I am breaking the law. If I use them in my portfolio and I don't charge for the content, it's still considered commercial use because I'm promoting my product and service for monetary gain—commercial use.
The way I use drone photos for my real estate photography business is to get different perspectives of the home that you don't see normally.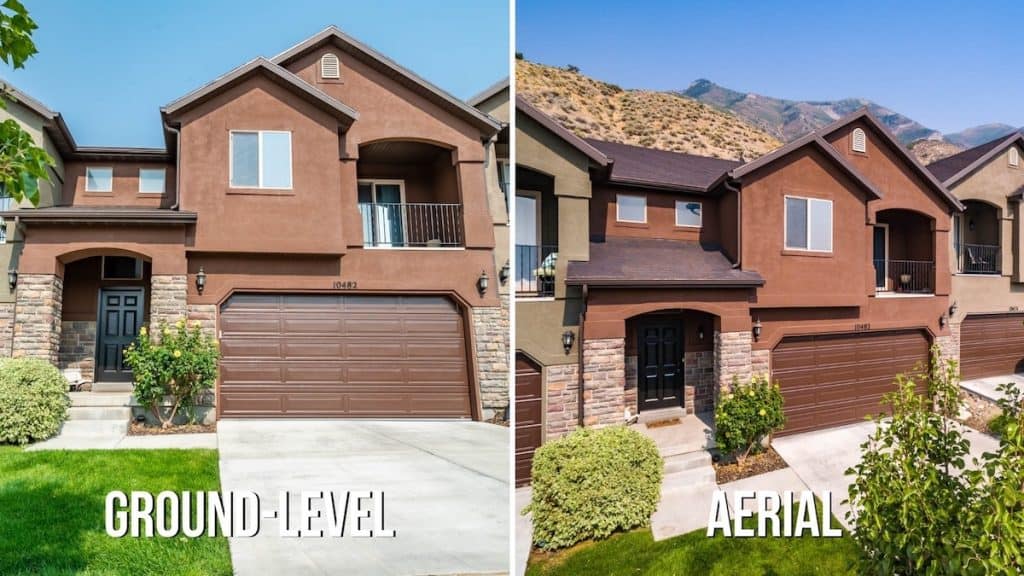 When you have a DSLR camera looking up at a tall house that's close up or even further away and looking up a hill, that's what you call a worm's eye view. That's where you're looking up at the structure. And SOMETIMES that's not the most flattering view.
By having a drone under your belt with your photography, you can showcase the home better in a more full composition. Another reason why I use aerial photos is to showcase decks, yards, solar panels. All of these are selling points for the realtor and homeowner. If you can compose your photos in a way and get close to the feature of the home, then the image looks more full and more aesthetically pleasing—needles to say the viewer is will to have an emotional draw to the image and see exactly what they're getting with the home.
Also, you can get high up in the air you can get further away from the home to showcase how the home fits in the community. If there are trails, playgrounds, or other amenities included in the HOA that need to be showcased, aerial photos will definitely make your property stand better than the listings surrounding it.
By having drone photos, you're actually setting your listing apart by showing different perspectives that a traditional DSLR camera cannot.
How Does A Drone License Help You As A Realtor?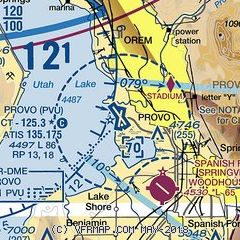 As a realtor, how can your photographer, having a license, benefit your listing? In this example, let's use where I live, Provo Utah. Provo is mostly in class D airspace meaning that from the ground-up you're in airspace. Even if you're fifteen feet off the ground, five feet off the ground, or even one foot off the ground, you're in class D airspace. And if somebody were to question "where did you get these photos from?" or "Who took them?" and you were to reference someone without a license and they can't show a license for it, they would get fined and potentially you would get fined.
The FAA doesn't treat violations to Part 107 too lightly especially if there is evidence—and your listing's address is all over the evidence of commercial photos when your listing goes live.
If you were to use my service, you can rest assured that I am a licensed drone pilot, you can reference me for the photos and I can show my license to FSDO (Flight Standards District Office) or local authorities so that way you can properly use your photos for commercial use.
So long I can get legal air clearance of the location of the shoot, my aerial services are free included in my Real Estate Marketing Package.
What's The Fine For Realtors Who Use Drone Without A License?
According the FAA has stated that a drone pilot operating a drone for commercial use without a done license can be fined $1,100 – $27,500 per violation. As for "the person who causes the operation" can be fined $11,000 per violation.
These are steep fines, but being a licensed drone pilot myself, this is the exact reason why I got my license—to stand out from the competition. Getting a drone license will become a must-have for realtors or drone pilots to operate and use a drone for creating content for a home sale.
Who Needs A License To Operate A Drone?
The person who should hold the license for any drone work done for commercial use is the Remote Pilot In Command (PIC).
There are three parts to a crew that operates a drone for commercial use—the Remote Pilot In Command, the Visual Observer, and the Person Manipulating the Controls.
These can be included in one person or more. If you are a real estate agent and absolutely need drone photos for you listing, technically you can be the only person that holds a remote pilot license while someone else flies the drone for your listing. You will need to be present as it is the Remote PIC's responsibility for the operation and safety of the drone performance.
Conclusion
Drone content is becoming more mainstream in the real estate market and will soon be expected with every listing in order for your listing to compete with all of the others. If you're not using aerial photography in your listing now, you're leaving behind opportunity to set yourself apart from other agents and soon you'll be behind the pack by not including professional drone work.