How Much Is Real Estate Drone Photography
I'm located in Utah, and I serve, mostly, the Utah real estate agents.
As for my drone services, I rarely do just drone-only services, but when I do, I basically go all out.
You'll get a lot of real estate drone photos, you'll also get some video clips from me just to add some value to the package—all to market your listing.
I'm not talking about just marketing a home, but if it's land we're photographing, then it's not just the dirt on the land, but the opportunity that piece of land provides.
Generally speaking, whenever I'm hired for drone photography, or drone work, it's mostly for commercial real estate, or for land and that's basically it.
How Much Is Real Estate Drone Photography?
When it comes down to pricing, what I charge is about $200 for the real estate drone photography package—and that's based in Utah County.
Now if you're located in Salt Lake County or Wasatch County, Utah it'll be $227 for that includes drive time for the trip charge.
CLICK HERE to see our drone packages
Here's an example of what we've done for this client—and she didn't want drone work initially.
Side Note: If you're considering drones, I would recommend that you go into the other packages where it offers photos and drones because that's where you're going to get the biggest bang for your buck.
And so that's where I include interior photos, professional high end, real estate photos, as well as drone exteriors that may include photos of the amenities around the neighborhood if necessary.
CLICK HERE to see our other photo packages
This client actually wanted just interior photos and a virtual 3D virtual tour of the home which was fantastic for this specific listing. The home was in immaculate condition and was a very beautiful home to shoot.
By the time it came time to shoot the exterior of the home, I was very underwhelmed by the photos when I was taking them with my camera from the ground.
The photos I was taking didn't justify what I was seeing with my eyes in person.
There are a couple of ways to mimic the drone look and that's by putting a pole or your camera onto a pole and raising the pole and taking photographs—that's if you don't have a drone, or if you're not licensed for a drone.
For me I'm licensed in Utah to fly a drone commercially, which means that I can fly a drone for first of all, for revenue for my business, and second of all, to sell something—and in this case, it's real estate.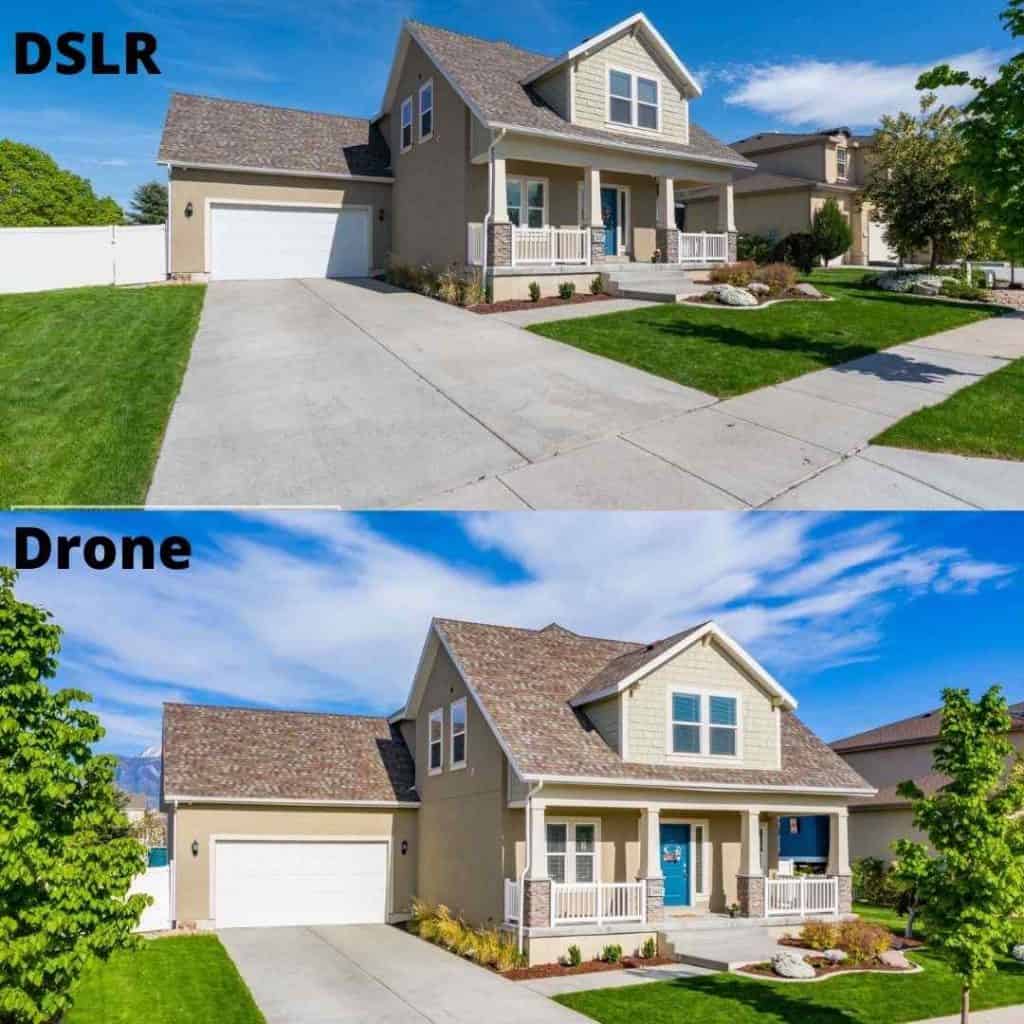 With this particular listing, I really wanted to showcase this property in its true light and that's where I upgraded the agent with drone photos for free because I really don't like how the camera is portraying the exterior of the listing.
I didn't like it because when taking exterior photos from a traditional DSL, you're looking from the ground up to the home. Now if you look at it, this is the drone photo here. So there's a huge difference here because now your level with the home and with this. I like to call it kind of like my portrait shot my portrait shot because you're composing this home, almost as though it's a person and you're taking their profile that you're taking their picture and you're really composing it to make it look beautiful.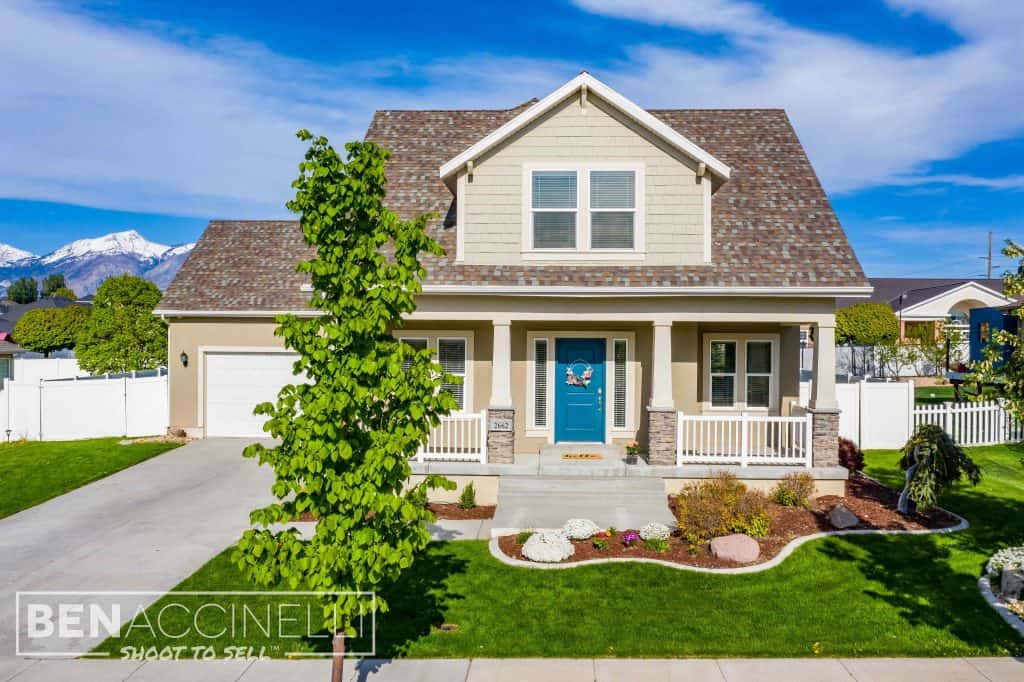 Here's another one that I wasn't able to get with a DSLR. But I'm able to get there with a drone. And that's where you really stand square with a home with a drone, get all the level shots, verticals and horizontal levels, and really get the home in a light that a traditional DSLR can't.
So if you go back here to the first one, where you're looking from the ground up, it looks okay, it looks decent, like you would put this on the MLS, but it doesn't compare to something like this. Okay.

And then here's another example of the backyard so the backyard as I was shooting, I'm like, you know what, I can get wide angles of it and I can I can showcase the yard and looks beautiful from the ground, but I really want to show how this fits in into the community and also how does it look from a bird's eye view, looking down onto the property. So this is the property here. It's a fairly large backyard, very impressive, very maintained and well kept. And then just got some close ups of some of the amenities in the area, just the shaded. What do you call the shaded porch? barbecue area, you can see that it has a fire pit.
But here is where we have the drone shot looking straight down. So now you can see how it fits in and wraps around the house. Whereas if you took this with a DSLR camera, you don't get that opportunity to showcase that you'd have to showcase in multiple images and also showcasing the lot size.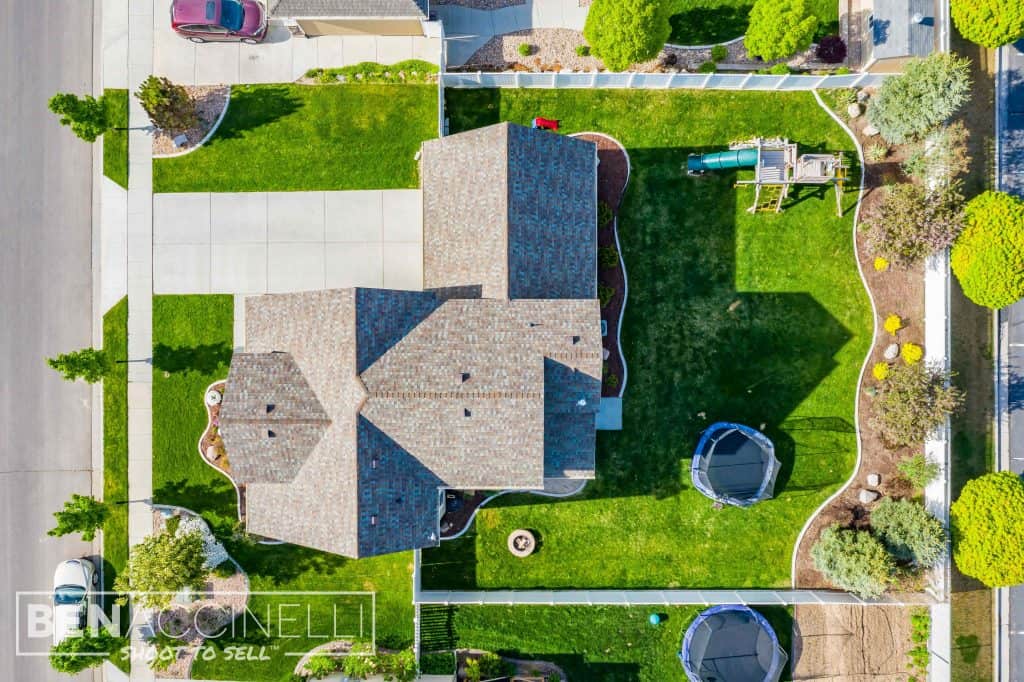 This is a very popular shot that I like to do. What I would strive for is to get kind of the property boundaries and how it fits in relation to the road and to the neighbors. And so here is showing the whole property almost like a Google Earth point of view but more focused and isolated on the property.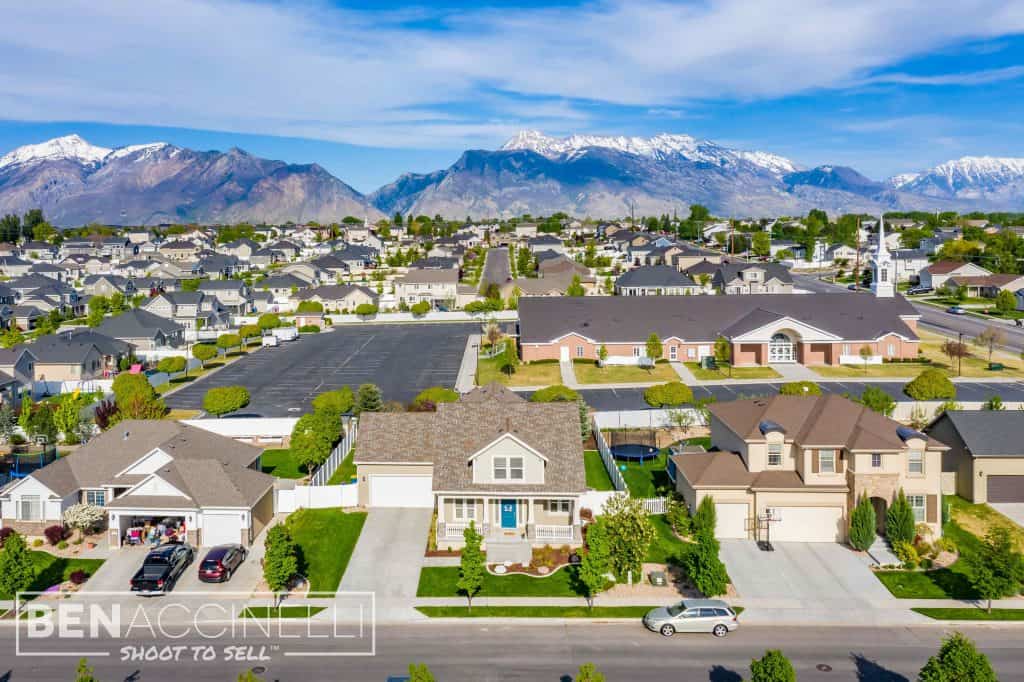 And then here is this home here that we shot so it's right here and how it fits into mountain views and how it fits in into this church. Now the benefit of having this church in the background is that you know that you're not going to have backyard neighbors. And so that's how it fits in here.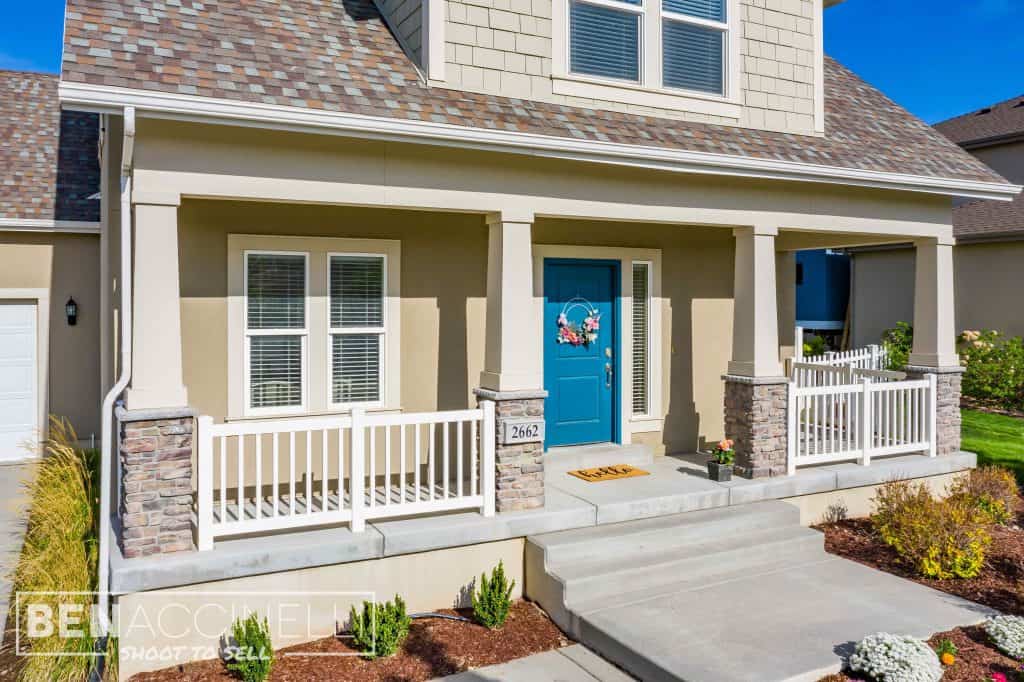 And then this is another shot I like to do with drones, where I get close up and show the front door and the entryway and how well it looks. Now I could get this with a DSLR camera but not at this angle, I would have to put even with my tripod all the way up to where it could go, you wouldn't be able to get this same shot here. So there are some shots that a drone can get and showcase better than a DSLR. And from all of my exterior shots, mostly I'll use a drone if it's included in the package but this home was just so beautiful to shoot inside and outside. The 3d matter port tour that we created for this listing was just absolutely amazing. And I didn't want to stop at just the ground photos on the outside and that's why I just bumped it up to the drone photos and just took these extra shots for them. For the agent, she was very impressed by how well it turned out.
So if you're considering not using a drone, I would just say stop reconsidering it because drones can definitely make the property stand out that traditional DSLR can't. And so if you have any questions, let me know about this. Using drones, I am drone certified. I have been for the past three years, I've even taken the recurring test, which is done every two years. And so my license is to renew next year, so I'll be taking that recurring test again next year to be recertified. But one thing that you do want to look for in a drone pilot is if they're licensed, and also insured for their drone flights, which I am, and that's what sets me apart from, you know, not necessarily the competition, but that's what sets me apart from everybody else in the areas that I am drone certified and licensed or drone certified and insured. And so that's what you want to look for, as well. And also if you're located in Utah, I would encourage you to check out the packages that we offer. Some packages include drones, some packages don't. But if you have any questions, let me know and I will see you in the next video.